Who lives in a pineapple under the sea?
❗ Announcements ❗
📢 Provisional AGM Results! (+ a provisional date/time for the exec handover meeting)
Our voting period has now ended, and we have now have results from this year's votes! These results remain provisional until this Wednesday (the 17th). This is in accordance with SU regulations, and allows for anyone who believes that the election has not been run fairly to appeal the result (which can be done by emailing democracy@warwicksu.com).
Motions:
Results are given for/against (abstentions)
On the appointed Equal Opportunities and Welfare exec positions: Passed 23/0 (1)
On Discord Moderation: Passed 24/0 (1)
On Rule 5 of The Code of Conduct: Passed 22/0 (1)
Elections:
You can find the detailed STV breakdown in this PDF link
President: Anakin Newbigging
Vice President: Ares Osborn
Treasurer: Ike Milian-Lewis
Wargames Rep: Jon Cheah
Draft Rep: Henry Phan
Board Games Rep: Alex Walters
Casual Card Games Rep: Jamie Clark
RPGs Rep: Oliver Williams
LARP Rep: James Newton
Quartermaster: Nathan Padgett
Communications and Operations: Hannah Collins
Web Admin: Finnbar Keating
Congratulations to those elected, and thank you to everyone who voted! 🎉The new exec team (if they survive the provisional period) will be coming into power in Term 3, so you'll see them running events and getting stuck in after the holidays!
Additionally, we'll be running an exec handover meeting in a few weeks time. The provisional date/time is Wednesday 24th March (during the first week of the Easter holidays), from 2-4pm. This may be subject to change. This will happen over in the Tabletop Discord in the #exec-meetings voice channel and chat.
🥚 Easter Event Offerings
We'll be unofficially running a slightly reduced calendar of events over the holidays - Magic: the Gathering draft won't take place (unless someone wants to organise an impromptu draft themselves), but we expect there will be people around continuing to war, board and casual card game on their usual days/times:
Monday 5-10pm: (Unofficial) Online Wargames
Wednesdays 5-10pm: (Unofficial) Online Board Games
Thursdays 5-10pm: (Unofficial) Online CCGs
🎣 Epic D&D Event -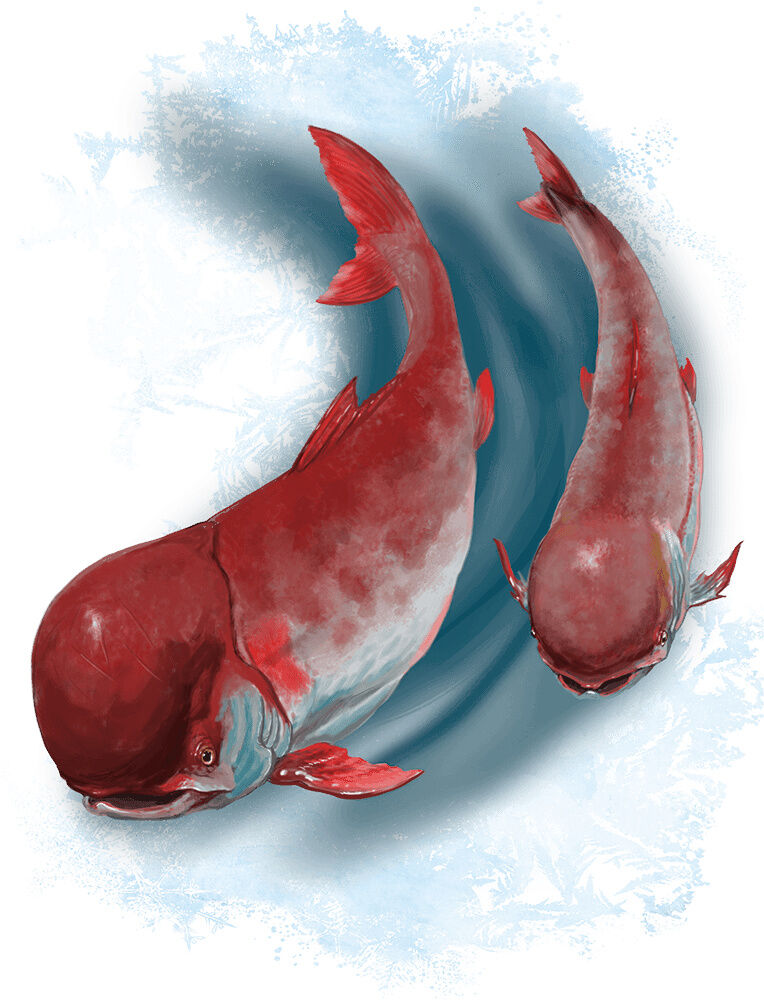 Saturday 10th April (provisional), time TBA, Discord server TBA
Take a break from the Everlasting Rime and attend the greatest event the cold north has to offer: The Great Knucklehead Rally! Compete in various events and enjoy the merriment of this grand festival! Though be prepared, for who knows what the celebrations may draw out from the cold darkness of Icewind Dale...?
An Epic D&D experience has many tables of players, each with their own DM, all taking part in the same overarching adventure to achieve a common goal. While this is often done in person (as our previous Epic D&D was), due to the ongoing pandemic this particular adventure will take place entirely contained within Discord (new server TBA) and the DMs choice of D&D platform (e.g. Roll20).
For this three(ish)-hour epic adventure, you will play as a 2nd level character of your own creation in a party of four adventurers, all experiencing the festivities of The Great Knucklehead Rally first hand!
For updates as more details are released on this event, please keep an eye on the Tabletop Discord. We recently put out a call for DMs in the #rpgs channel - if you would like to help out as a DM, please contact Sol or Oli asap! Sign ups for players will be released in a few week's time.
❔ What's happening this week? ❔
This is our last week of regular term time offerings before (most of you) enjoy the Easter break! 🥚
Monday 5-10pm: Online Wargames
Tuesday 6-10pm: Online Draft - Society Peasant Cube - free! (as it's online) - you must sign up here to take part
Wednesday 5-10pm: Online Board Games
Thursday 5-10pm: Online CCGs
Remember, you can always find an up-to-date timetable of what's going on on our website's Schedule page, and you can see special events (including RPGs) and sign up to them via our Events page.
💭 What happened last week? 💭
Friday night was our traditional end-of-term quiz night. We had 5 teams (one being Just Callum) battling it out to determine products from their ingredients, sailing the high seas, deciphering the words of Banakin Bewbigging, identifying the dice a clue is shaped like, top-to-tailing board game names, and completing the quotes. Team Gend-errr? (Finnbar, me, Hannah, Jamie and Artemis) took the top spot in the main quiz (gg to us! 🎉)
In the bonus round, Tabletop sold out to Asmodee, and we overhauled their brand image for them. We created Kickstarter campaigns, wrote essays on the Gender Cube, suggested targets for corporate takeovers, and designed their new logo.
Team 4 came out on top in the capitalist hellscape of this round! Asmodee owns you now, good luck!!
Kickstarter design credit: Gend-errr? (left) and Teaming with Killer Bees (right)
Absolute chaos reigned after the end of the quiz, as Banakin was meme-ified by all those who stuck around to chat. Some of the choicest photoshop (and otherwise) jobs are displayed below:
Credits: left by James; top row left to right by James, Amelie, Jamie, and Finnbar; right by Amelie; bottom row left to right by me and Finnbar.
I also bestow upon you the blank Banakin meme templates for your own purposes:
Credit: Banakin Bewbigging
Following the quiz, we had our usual end-of-term Tabletop festivities. Many triangles fought over a patch of space in Star Wars Armada (pictured right), beans murdered each other in Among Us, and another epic game of Here I Stand took place. While not a Tabletop Weekend event, our very own wargamer James Ellis took part in the RECRUIT Gold Squadron Flight Club Championship (a Star Wars X-Wing tournament), and successfully beat 92 other players to place in the top 4! 😮🎉
And now I say goodbye. This is actually my last newsletter! It's been an absolute blast, and I'm sad to leave. Next term our new Co-Op rep Hannah will be taking the newsletter-writing reins. This might be goodbye from the weekly newsletter frog, but you can look forward to the possible debut of eldritch abominations in the frog's place! 🐙 I won't be perma-gone though, as I'll be taking the place of VP, so I'll see y'all around 👋😉 Ares out ✌
Wash your hands, stay inside, and come play some games with us (online) 💛
Ares Osborn 🐸 (Communications and Operations, 🚽 🌈 🍁 😱)
@dovahbutt#7544 on Discord
e.osborn@warwick.ac.uk
---
📰 Subscribe to this newsletter!
---
🌍 Society Website | 📘 Society Facebook Page | 💬 Society Discord Server Shortlink: xdDZnYQ
👪 Facebook Groups: Wargames | Draft and CCGs | Board Games | RPGs | LARP
---
We're sponsored by Zatu Games!
Use the code STU99 at the checkout to get 5% off your purchase!